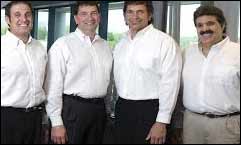 Since 1942, Nardone Bros. has been committed to making the finest pizza and bringing the most nutritious, high-quality products to schools around the country. Several generations have handed down the knowledge and insight that goes into our pizza, and our company remains family owned and operated to this day.
Nardone Bros. services a nation wide customer base, and schools and institutional food services have featured our line of fine products for years. We offer a full line of CN-approved products that are designed to meet the needs of school lunch programs. Our sauce is accentuated with a fine blend of herbs and spices, which serve to further enhance the flavor of hand-picked tomatoes. We then evenly spread the finest selection of cheeses and top it with just the right amount of quality meat products. At the very foundation is our homemade crust, a special combination of ingredients which provides the right texture to assure great taste in every bite.
The satisfaction of our customers is of the highest priority, and this is evident in the exceptional service we provide. If you don't see a particular item while browsing through our product line, or if you would just like something different, let us know. We are happy to work with you to create exactly what you are looking for and see that your needs are met.
---
Nardone Bros. Baking Co., Inc. services a nationwide customer base. All of our pizza products are CN-approved and price competitiveness is enhanced by the company's participation in state commodity rebate programs.
Nardone Bros. Baking Co., Inc. is a service oriented, technologically advanced pizza company which is capable of meeting all of your product needs. For a quality product at competitive prices, give Nardone Bros. Baking Co. a try!